Print
Seal End boxes
Cheap & Delivered
Fast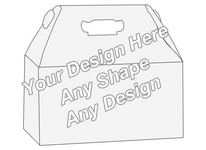 Cardboard

Cardboard 125

Matte Finish Boxes

Matte Finish Boxes 75

Recycled

Recycled 99

Silver Foiling

Silver Foiling 22

Golden Foiling

Golden Foiling 24

Gloss Laminated

Gloss Laminated 45

Full Color

Full Color 4

Embossed

Embossed 010

Die Cut

Die Cut 60

Custom

Custom 55

Window

Window 47

92% Of Our Customers Generate Their Instant Custom Printing
Quotation By Free Quotation Engine!

At Your Service

Print
Seal End boxes
Cheap & Delivered
Fast

Description

Seal end boxes, as the name suggest are like regular boxes but, they have one sealed end with the other being open to pack your product. This type of packaging can be used when you want to ensure that your product get opened from the correct side and on occasion where opening them from wrong place might damage the product.

These boxes can also have both ends sealed if the product packed inside them has to be protected and offered as sealed pack to the customer. They one side of the box is sealed before the packaging of the product and the other is sealed after packing the item inside it.

They are usually printed from materials like cardboard which can be easily bent to get the unique shape. The cardboard materials can be used in different textures where a variety of eye catching colors are also offered. Plastic materials are also available for printing where vinyl plastic provides transparency with the PVC ones being available in different solid colors.

To ensure that the seal end boxes look unique while being kept on the shelf so, we provide different customization options to allow the customer to make their packaging more attractive and different. You can choose from a variety of personalization options including emboss, foiling in gold or silver as well as lamination in matte or gloss finish.

You can get your desired design of seal end boxes printed at cheap rates from us where we make sure that the quality is kept to its best for the material and printing.

Customer Service Information

If you are looking for the printing of packaging boxes online for your business or personal use and want some unique shapes and custom made packaging then, the packaging printed by us are made right for you.